UPick Flower Farm
This summer, we invite you to join us at Soul Miner's Eden for our Saturday flower and produce markets. Come visit our homestead-style farm, wander our acres of flower fields and bring home a bit of the farm with you. 
U-Pick Flowers on our Beautiful Homestead Farm
There's something about picking flowers that feels freeing- warm, soft mid-June wind rustling the leaves as you hand-pick stem by stem to craft your perfect bouquet. At Soul Miner's Eden u-pick flower farm, you can experience this farm life feeling, even if just for a few hours on a Saturday.
On Saturdays during the summer months, we will have our flower fields open for u-pick! We'll provide shears for easy cutting and vases for you to fill. You can pay by the vase and fill it up as much as you want.
Be sure to bring your family and friends to visit the greenhouse, too! In addition to flowers, we'll have a variety of live plants for sale throughout the season. From tomatoes to lavender, we'll have beautiful starter plants for you to take home and grow.
Plus, we'll have an assortment of products we make on the farm available for purchase, too. While our lavender and eucalyptus fields will not be open for u-pick, we will pre-make bundles with lavender and eucalyptus cuttings for you to bring home and enjoy.
Check in with our Facebook and Instagram accounts before you visit to see what produce we'll be selling on the farm that week. If you want to get automatic weekly updates, sign up for our email list! You can also check out the calendar on our website.
Farm Features
U-pick flower fields

Operating greenhouse on-site

Live plants for sale

Demonstration garden on-site

Unique monthly events

Rotating selection of herb bundles

Bathrooms available

All plants grown with all-natural fertilizers and soil conditioners
Why Soul Miner's Eden?
Rarely can farms offer a genuine homestead experience like Soul Miner's Eden.
Our farm was built by a small business owner out of love for our beautiful land here in Georgia. Our crop growth is fueled by an enthusiasm for farming and desire to keep traditions of organic agriculture alive.
Some farms look beautiful but are covered in harmful chemicals. At Soul Miner's Eden, we use all-natural products from our sister company, Southland Organics, on our fields, garden and greenhouse.
Come experience the fruits of our labor on a farm that captures a slice of the homestead experience. Our hobby farm brings us so much joy and fulfillment, and we're excited to share it with you.
Pick your Own Flowers In Georgia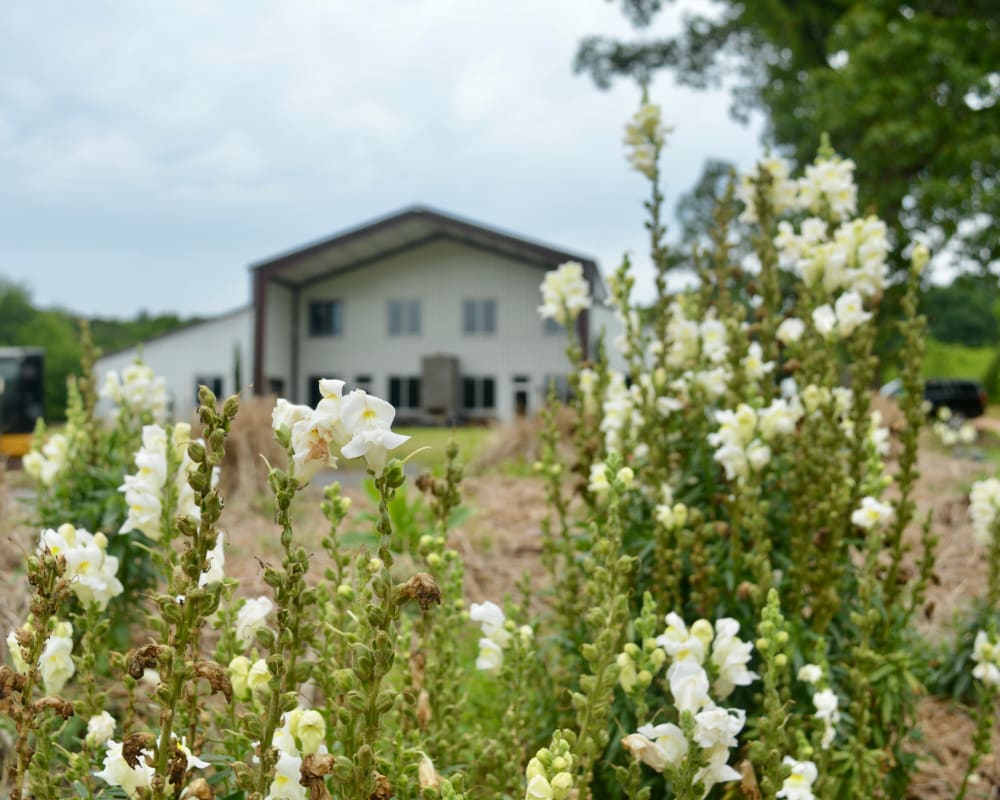 This season, we're planning to grow beautiful varieties of flowers such as zinnias, calendulas and sunflowers. Come stroll in our swaths of colorful flowers and soak up the sun among a sea of green leaves. We'll have about 2 acres of flowers planted across our fields. You won't believe that you're just 5 minutes from Atlanta Highway!
Our Soul Miner's Eden u-pick flower farm operates similar to a farmers' market. Open on Saturdays from 9am-1pm, you can pick flowers, grab some plants from our greenhouse and pick up some herb bundles on your way out at the grain bin.
Fun for the whole family
Soul Miner's Eden is a great place to bring your whole family! We only use natural pesticides, herbicides or fertilizers on our fields, so it's safe to let your children roam our fields. No need to worry about harsh chemicals.
Our greenhouse is a great place for you and your family to learn more about growing vegetables and herbs organically. Be sure to stop by during your visit to the farm! Many u-pick farms don't have greenhouses available for visitors to tour, so we encourage you to take advantage of this neat feature.
Get a sense of how homestead farms operate in a safe, natural environment!
College student? Come on over!
Young and childless? We got you. There is plenty of fun to be had just roaming flower fields as an adult. Grab some friends and pick a bouquet of beautiful flowers to brighten up your dorm or apartment! Keep an eye on our events calendar for our "Marigolds and Mimosas" event.
Know Before You Go
Our U-Pick flower market will be held on Saturdays in July, August and September. Our hours for picking are from 9am-1pm. Check our calendar and social media accounts ahead of time to see the live plants and herb bundles we'll have available!
We will sell u-pick flowers by the bouquet. Each bouquet will cost $10, so customers can fill them up as much as they like! We will take cash or card.
Wear comfortable walking shoes that you don't mind getting a little dirty, especially if it's rained recently. You don't need to bring any supplies- we will have everything you need.
There are 2 bathrooms available in our main office. Enter the glass doors at the front of the building. The white doors on both the left and right are unisex/family bathrooms. Unfortunately, we do not have changing tables in these bathrooms. Please knock the dirt off your feet before you come in the office.
We will have friendly team members available throughout the farm to help out and answer any questions you may have!
When you arrive
Upon arrival, guests can park in the gravel parking lot that's on the right when you pull in. Head out of your car and head straight to our grain bin. It's a big, shiny, silver circular building near our garden. You can't miss it! Just look across our front lawn and you'll see it. 
From there, we'll give you shears and vases to go pick flowers. You can walk through the fields and pick at your leisure! At any point during your visit, we welcome you to stop by our greenhouse to get some plants or just to check it out. Customers will be able to bring plants from the greenhouse up to the grain bin to purchase.
Your last stop will be the grain bin. You can check out there!
How to Find Us
Soul Miner's Eden is located at 189 Luke Rd. in Bogart, Georgia. This is right outside of Athens in Clarke County, though it's easily accessible from Oconee County, Oglethorpe County and Gwinett County. You can use Apple Maps or Google Maps to navigate to "Soul Miner's Eden" in Bogart, GA.
If you're coming from Atlanta Highway:
Turn onto Fowler Mill Road. If you're coming from Athens, it'll be on the right. Look for the blue "Welcome to Bogart" sign! From there, you'll continue on Fowler Mill Road for about a mile. This will be a downhill drive. Right when the bottom of the hill begins to flatten, take a left onto Luke Road. Look for our U-Pick signs! From there, you'll go up a hill for about a quarter mile. Look to your left and you'll start to see our farm. Take your first left to enter our parking lot. You'll see flowers and our white office building as you enter!
Stay Updated!
Connect with us on Facebook and Instagram, check our website regularly or join our email list to stay updated on special events and offerings. We'll have u-pick available every Saturday in July, August and September but check in advance for events like farm tours and cooking classes. We'll also have different items available for purchase each week, like tomatoes, eucalyptus and lavender bundles, and other produce from our homestead.
We'll post updates on our social media and website calendar, but you can fill out this form for weekly reminders about what's new at Soul Miner's Eden! Don't miss out on our special herb bundles, live plants and events.
Keep in touch with us during the fall and spring months too! We'll have seasonal offerings throughout the year.
Contact Us
Of course, please reach out to us if you have any questions. You can reach us by phone at (706) 619-1866 or by email at farm@soulminerseden.com. We can't wait to see you!