Home by Soul Miner's Eden has partnered with Southland Organics to create two simple, all-natural product bundles that help urban gardens and backyard coops get all the nutrients they need. Our bundle for complete chicken health is called Roost. 
No more wondering if your birds have what they need. No more harsh chemicals or questionable effectiveness. Just natural chicken supplements with health benefits galore.
We're not just winging it- these chicken supplements are backed by science. Southland Organics' products have been proven to improve poultry health through probiotics and organic acids. With Home by SME, we want to bring these natural solutions to your backyard coop.
Ready for better, organic care for your birds?
It's time to Boost your Roost!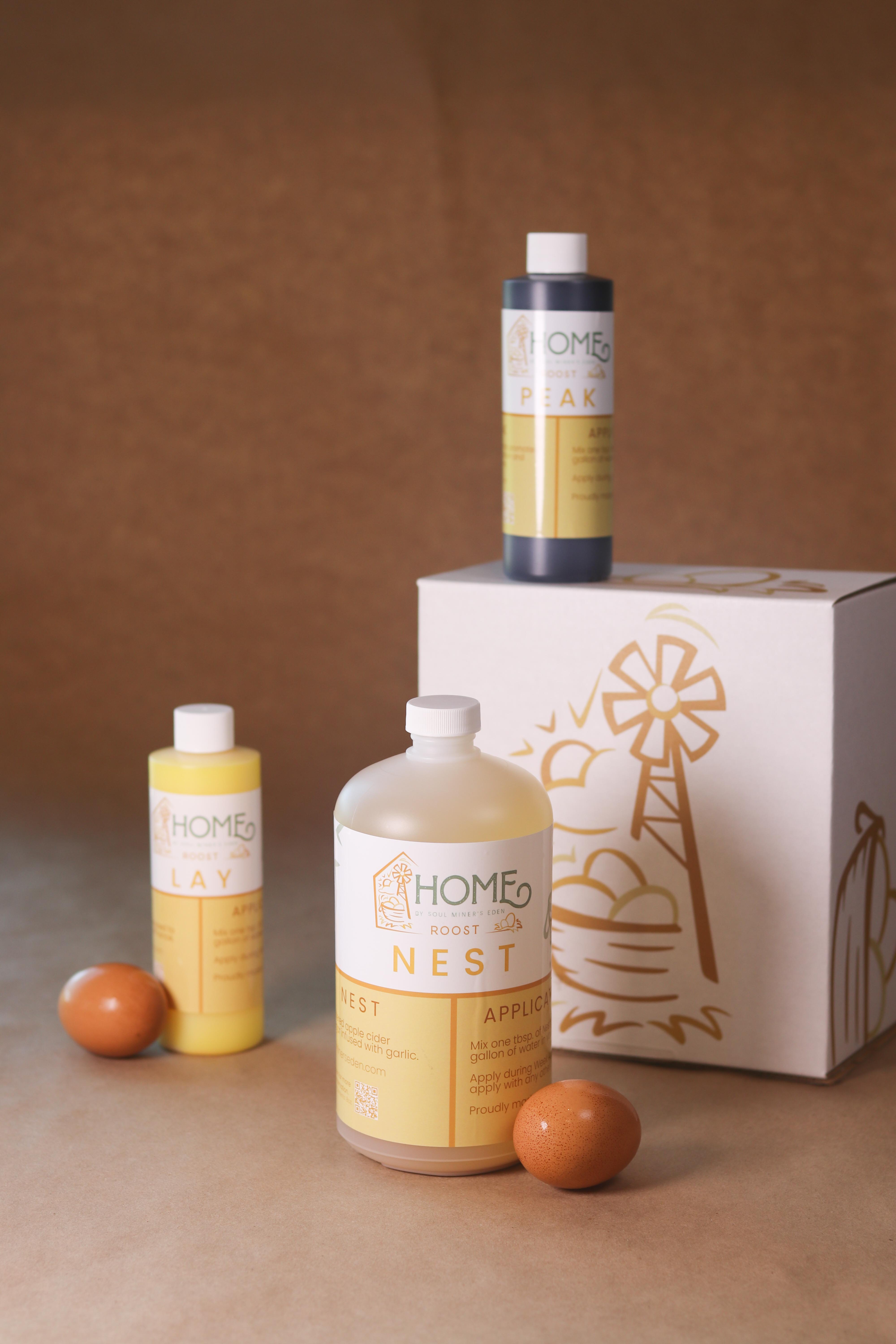 Raising chickens can be an incredible source of joy for you and your family, but sometimes it's hard to know if you are truly raising happy and healthy birds. Finding sustainable, safe products can be even more complicated- is anything really all-natural and effective?
Just like us, chickens need vitamin supplements to be in their best health. Chicken feed typically can't provide all the nutrients that your flock truly needs. Chicken supplements are the simplest and most reliable way to ensure your coop is as healthy as possible!
Poultry Nutrition Made Simple
Keeping up with a small flock, whether for your morning eggs or just as pets, comes with a unique set of challenges- illness, nutrition and coop cleanliness included. It can be hard to find products that are simple, easy to use and effective, and even harder to ensure that those products are safe for you and your birds.
First time flock owner? No problem! Long time bird lover looking for something new? We've got you covered.
Roost is a bundle of three all-natural supplements for chickens. It's uniquely designed to boost your roost in a natural and effective way to ensure happy and healthy birds year round! Our simple bundle gives your birds what they need, when they need it. All you have to do is measure, mix and switch!
Chicken Supplements in Roost
Roost products use natural ingredients like active carbon and beneficial microbes to improve your flock's health. Read on to learn how each product is uniquely designed to optimize poultry performance.
Week A: Nest Apple Cider Vinegar + Garlic
Nest is raw, unfiltered ACV infused with garlic. It includes the "mother," which is the most beneficial element of vinegar. It is designed to boost your birds' overall health, aid in digestion, keep the GI tract healthy, tighten the gut and provide bacteria that support poultry development.
Birds like the taste of the garlic infusion, so they're happy to drink Nest when it's in their water. Nest cuts mucus in the gut to promote digestive health and a healthy immune system. Note that the ACV in Nest is 60-grain, which is much stronger than what you'd typically buy at a grocery store!
Week B: Lay Vitamin Supplements
Lay vitamin supplements provide the beneficial vitamins and minerals needed to boost bird performance. It's like the vitamins you may take in the morning- but specifically formulated for your chickens! It helps promote leg and bone development plus cardiovascular health, skin health and blood health. Lay is highly absorbable and concentrated, working to boost your birds' immunity.
Adding a vitamin and mineral supplement to your chickens' diet is so important since it ensures that your birds' nutritional needs are met consistently. Our Lay vitamin supplement is easy to give to your birds- just pour it in the coop waterer!
Lay includes Vitamin K, Vitamin E, Vitamin D, Amino acids and folic acid. These chicken vitamins include fat soluble and water soluble vitamins. Although Lay does not include calcium, it will make calcium in feed or a calcium supplement even more effective since it has Vitamin K 2. This will prevent a calcium deficiency.
Week B: Peak Poultry Probiotic
Peak is a poultry probiotic chicken supplement that promotes overall health, nutrition and egg quality for hens. We call this product Peak because it helps your birds stay in peak for longer- which means more eggs! It does this by providing probiotics and organic acids that work to increase egg production and quality. Peak also tightens the gut, helping your girls produce cleaner eggs with firmer shells.
Peak helps nutrient absorption so that laying hens can get the most out of their chicken feed and thin shelled eggs can be prevented!
Roost is not available at any ol' feed store- you can only purchase it from Soul Miner's Eden! Just one bundle takes care of digestive health, adding a vitamin supplement, maximizing the benefit of chicken feed and more. Roost can be used with both chicks and adult birds!
A few supplements, in this case chicken vitamins, probiotics and ACV, can make all the difference. Roost has all the vitamins chickens need to prevent health issues and promote laying eggs and firm, clean egg shells in a free choice setting.
How it Works
To apply our uniquely designed flock boosters, just measure, mix and switch!
Measure out the correct amount for each product.
Both Lay and Peak are given at a dose of 1 teaspoon per gallon of water, while Nest is 1 tablespoon per gallon of water.
Mix the product directly into your coop waterers.

Switch products next week! Sit back and watch as we help boost your roost.
That's it!
Alternate between the Week A and Week B formulas each week. Roost will last a flock of 5-10 birds at least six months. Follow this guide to know which product to use each week:
Week A- Nest
1 tbsp of Nest per gallon of drinking water.
Week B- Lay and Peak
1 tsp of Lay per gallon of drinking water.
1 tsp of Peak per gallon of drinking water.
Why switch products each week? Nest should not be mixed with Peak. Apple Cider Vinegar, the main ingredient in Nest, has antimicrobial properties that can be harmful to the beneficial bacteria found in Peak. Applying these products on different weeks ensures their effectiveness.
Add Roost to you Chickens' Diet
Add Roost in with treats like black oil sunflower seeds, mealworms and grubs. Even if you make your own feed, Roost is a surefire way to make sure your birds are getting the vitamins and minerals, immunity and gut health they need to succeed.
Chickens require fatty acids, essential amino acids, water-soluble vitamins and fat-soluble vitamins to have the strongest immune system possible. This combination comes through proper feed choice and supplements of essential vitamins.
We'd like to note that the products in Roost are not medications, just nutrient supplements. If your free range chickens get sick, get a professional to provide veterinary advice. Raising chickens in your backyard with the addition of a free choice supplement like Roost is just a simple way to help prevent a trip to the vet.
Questions?
Please reach out to us with any questions by emailing me at Izy@SouthlandOrganics.com or calling (706)619-1866.
Larger Scale Flocks
If your flock is a bit larger in scale than the Roost bundle or you grow meat birds, check out the commercial poultry products at Southland Organics.